Yesterday I was wandering around without a coat. There was no snow to be found, the sun was shining and it was lovely!
Today, in a short period of time, we received a snow dump. *groan* We were walking back from my Gramma's house this morning when it first started. The littles were protected from the whipping wind inside the stroller so it was just mommy that got the full experience.
🙂
We had lunch, I put them down for a nap and then headed outside. I  finished shoveling our driveway; the littles were still napping so I quickly ate some chocolate just in case I had burned off any calories while shoveling LOL. I'm now toasty warm inside and replying to some emails in the last few moments of quiet time before everyone gets up.
Were were going to get my van from the garage tonight but with the roads? I think we'll try for tomorrow instead!
I'm supposed to go to my weight watcher meeting tonight with my sister and my aunt (18 months later, I'm still working on that baby weight…though the chocolate probably doesn't help LOL). Looking outside just makes me want to put on my cozy jammies, sit in front of the fire and watch a girly, romantic movie. Oh, and maybe some hot chocolate!
What do you do when it's blustery outside?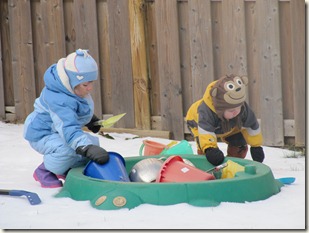 (This was from a couple weeks ago, the last time we had snow)