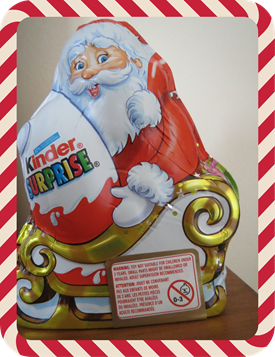 I ate him while writing this. Yum!
Christmas is one of my favorite times of the year. But it can also be my least favorite time of year if I am not careful. It's so easy to be swept up in the hustle and bustle that we forget that it's not about presents and parties, it's about Jesus. This season isn't about getting, but love and giving -  and that you don't have to spend to give!
Two days ago I read a post about the Kindness Elves and loved it. I like to do things just right so immediately in my head I had the perfect little friends with beautifully handwritten little notes…but it's Christmas and already December and I'm a busy homeschooling mama. Rather than perfection, I just embraced that we're late to the game and modified it for us this year so we could start immediately.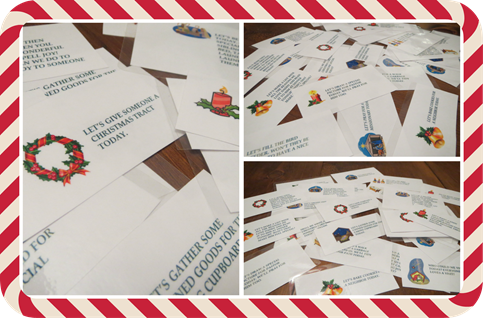 I simply used a business card template in Word and typed out some ideas. I printed them, laminated them and have been hiding one card each day (we're on day two) somewhere in the house and shouting out clues to the children to help them find it as they hunt around. They're loving it! Wondering what our Christmas Kindness Cards look like?
Let's go for a walk and bring a garbage bag with us. We'll tidy up our path today!
Which missionary shall we pray for today?
Let's make caramel popcorn balls for the garbage men and our mailman. I'm sure they would enjoy a special treat!
Why don't we learn the verse and chorus to a carol today? What does it mean?
Let's go shovel our neighbors driveway today. Won't they be surprised?
Who could we visit today? Someone we don't usually see!
Let's hand out smiles today to everyone we see. They're free you know.
Shall we gather some canned goods for the food bank today? They may not seem like a lot but the person receiving them will be thankful that someone gave!
Let's write Nana today. I know she loves to get mail!
Shall we fill the bird feeder today? They'll be happy to have a nice meal. Did you know that the bible tells us God sees each little sparrow?
Let's make a list of all the reasons we love daddy and read them out to him at dinner tonight. I know that will make him feel special.
Let's give someone a Christmas Tract today.
Shall we write a nice Christmas card for someone special today?
Let's buy a present from the World Vision catalogue today; chickens or a piglet? Someone may be forever changed because of our gift!
Let's bake cookies for a neighbor today!
Do we have some books, toys and clothing that we could donate to the women's shelter today? Lets go see!
Grab the candy canes! Lets go hang them on the neighborhood door knobs. Imagine their surprise when they come home to find them!
Let's be a helper today. Do something special for your sibling today: make their bed, take their laundry to the washer, let them go first…
Let's draw a special picture for Pastor today. We'll pray for him too.
JOY – Jesus, then others, then you; what a wonderful way to spell joy. What can we do to bring joy to someone today?
Let's have a popcorn and movie night. Aren't you thankful that God has given us our family to enjoy?
Let's buy/make something special for our Pastor's wife; I know it will be a blessing to her!
December 25th – Happy Birthday Jesus: let's bake a cake and sing Happy Birthday. Jesus can't eat the cake but I know He loves to hear us sing to Him and praise Him!
KINDER®has partnered with Children's Miracle Network yet again and it's "A Joy To Share"program.  But KINDER® doesn't simply want to give the money, they want to encourage personal involvement – yours! You get to be a part of it: "create a greeting card to share some holiday joy to  children and their families at Children's Miracle Network hospitals this holiday season." For each card that is made, KINDER® will then donate $1 to the Children's Miracle Network!  You can make a difference right where you are, right now!
I've posted in years past about the Joy to Share program; about what it means to us personally because of our miracle, little Isaac and also ways that we as a family share and make a difference!
Kinder is spreading joy with chocolate and cards, and you've read my ideas, now I'd sure love to hear what you like to do to bring Joy to others this season!
#KinderMom
"Disclosure: I'm part of the Kinder® Mom program and Ireceive special perks as part of my affiliation with this group.  The opinions on this blog are my own"