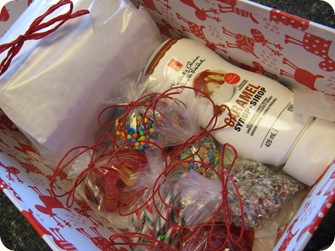 Thanks to the Happy Housewife, I made Sundae Boxes as gifts for some friends this Christmas. It was fun and easy to put together and hopefully the recipients enjoyed them.
In my box I put waffle bowls, caramel sauce, chocolate sprinkles, gummy worms, crushed candy canes, maraschino cherries and sugar sprinkles. I wanted to add a home made chocolate and caramel sauce but I just didn't have the time so store-bought it was. I was happy with the result though.
A tip – it's all in the presentation. Ribbon, tissue paper and a nice box (the dollar store!) go a long way in making it look good!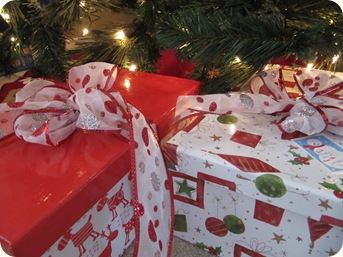 This is a great gift idea that could be used year round by changing up the packaging. What a great cheer-you-up or just-because gift for your friend, neighbor, secret pal at church. It's fun, as economical as you'd like it to be and it's useful! {and delicious!}