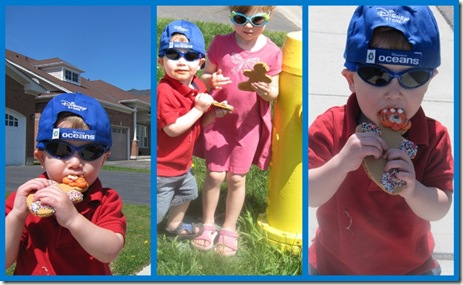 Baby Banz sent John a pair of their glasses to try; the adventure banz. Trust me, this little boy has had a lot of adventures in his banz! He loves them.
Sun Safety was one of the hot topics in our summer series. Eyes are often one of the overlooked areas when practicing sun safety. There is a difference between sunglasses that are tinted and ones that filter out dangerous rays. The suns rays can lead to all sorts of eye damage.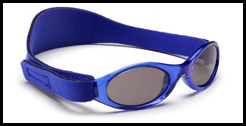 With tots, it is almost impossible to get them to keep glasses on.  I think a good part of this is because their little noses aren't able to hold on traditional glasses like an adults. Even with the arms of the traditional glasses around their ears, they constantly fall down every time they move which is obviously annoying and irritating. John was 1 1/2 years when we first got these adventure banz. He took to them right away. John was willing to leave his banz on, they fit him well, being completely adjustable with the soft Velcro . The molded glasses aren't designed to solely be held up by his little nose, just to rest there.
Features

NEW!! Silicone Nose and Brow Piece is embedded into the glasses for added comfort
Category 3 lenses offer high sunglare reduction and good UV protection 
Durable polycarbonate Ophthalmic quality
Capable of being replaced with prescription lenses
Neoprene elastic strap matches chosen color of sunglasses and allows for flexibility, breath-ability, and comfort
Side adjustable Velcro allows for years of wear as the child grows
Frame is made of shatter-resistant polycarbonate
Sporty, sleek design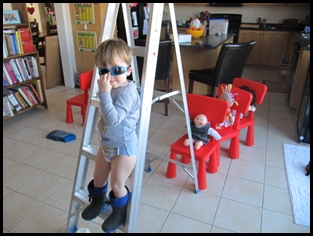 John not only wears his glasses outside, protecting his delicate eyes from dangerous rays but he wears them for indoor adventures all the time. He's always wearing his "goggles" to be a conductor, a pirate or any other number of things; these banz have become an essential to his imaginative play. After a year of playing with these glasses on an almost daily basis, they are still scratch free, and show little signs of wear. They also fit him just as well today as they did last year. Because of the adjustable nature of these, they can definitely grow with your child!
I love that he can safely put them on without sticking anything in his eye and that there aren't really any parts to break off.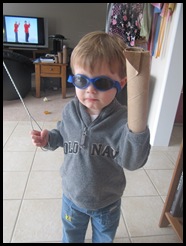 If you are looking for a comfortable, quality, long lasting, grow-with-them pair of sunglasses,  adventure banz are a great choice!
Disclosure: I did receive a pair sunglasses for review but all opinions expressed here are my own and I was in no other way compensated for this post.