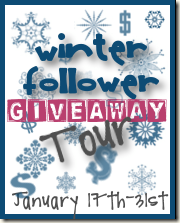 Have you entered my giveaway for $950 Cash? If not, then make sure you do! It's an easy entry- just follow on Google Friend Connect, and make a comment on the original post here.
How would you like an extra entry into the contest? Today & tomorrow (January 19 & 20) we will be offering a special bonus entry into the $950 Winter Follower Giveaway Tour! In fact, we will be offering a few Bonus Entry days until the date the giveaway ends. All will be easy entries- we promise!
Today & tomorrow, the bonus entry will be to follow me on Twitter (put in your Twitter link). PLEASE DO NOT LEAVE YOUR COMMENT ON THIS POST. Please leave your comment that you follow me on Twitter and your Twitter name on the giveaway post.
If you would like to get up to 17 bonus entries, please visit the other host blogs and follow each of them on Twitter and then leave a comment on their giveaway post. Please note that Listen to Lena DOES NOT have a Twitter account.
Here's the Twitter accounts for the other host blogs:
The host blogs are…
Frugal Plus