This spring when we bought our curriculum, I also ordered some Lauri products to try, though I'd never heard of them before.
I was amazed at how much they love their Lauri products. John happily plays with his pegs and sorter for 1/2 an hour to an hour while I work with Chloe on her schoolwork. Then Chloe has to have her turn to play with the pegs. She truly is sad if she misses out.
Almost daily they will ask, "Mommy, can we play with the pegs?" and of course the answer is always yes, providing they tidy up their other activities before going on to the next. I'm always amazed at how fast they can clean everything else up so they can play with their Lauri toys.
I love the Lauri products because they are vibrantly colored, quality and they encourage fine motor skills, learning colors, sorting, imagination, counting, addition and subtraction. These are simple products and definitely worth having! We will be able to use these for years to come; though they play with them now, they will also make great math manipulatives during the school years.  I love that they are having fun learning and they have no idea that learning can be otherwise!
You can find them at your local educational toy store or in various online stores but the most extensive selection I've found is at Patch Products. I was giddy with delight as I perused all the available items.
They're offering FREE SHIPPING right now for US customers. Their shipping to Canada is pretty reasonable too. I was delighted with my order experience as well as the customer service I received. I will definitely be a repeat customer!
We currently have the tall stacker, the numbers (each of which are 2 pc puzzles) and the color sorter. All are loved and played with daily!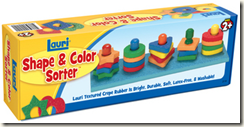 The littles are going to be delighted with the mighty monkeys (that can be played with in conjunction with the stackers) and Locktagons on Christmas morning!
 What are some of your favorite educational toys or brands?
Disclaimer: These items were purchased by myself and this is simply a review done to share with readers products that I believe are a worthwhile purchase. I did not receive items for review nor was compensated in any way.