Our school starts shortly after breakfast with story time. Then we move over to the table and spend some time coloring and drawing; usually something we have learned about in a story that morning.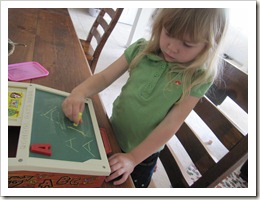 I have a vintage Fisher Price Magnetic Chalkboard that I bought off eBay. I may or may not have paid a little more than I planned to pay for it but I loved mine as a child! It has the chalk board on the front that is magnetic. Inside it has a sliding tray with all the magnetic alphabet letters and then it also has the stencil cards to make trace the letters and spell words. Chloe loves it and we have been practicing on it. Chloe still really needs a lot of practice as she is really unsteady in her lines. I think we'll spend some time this next week tracing lines.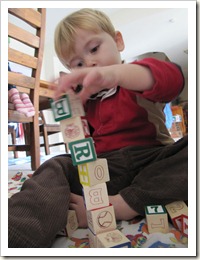 After our drawing time, John has some "blanket time" with a few activities to keep him busy and help him practice his fine motor skills. Whatever the tools; John enjoys building castles.
So you know what one of my favorite childhood toys was. Tell me, what's yours?