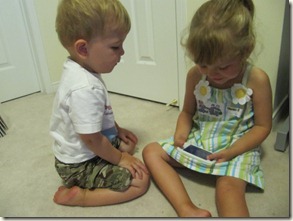 I wouldn't have thought of children's apps for the the iPhone. It has never crossed my mind. Then I had the opportunity to try out some My Living Stories and I'm amazed that we didn't go in search of tot friendly apps sooner.
We carefully monitor what our littles watch and how much they watch. For our tots, TV time is minimal. But you know, on one of 'those' days or when the littles are sick, I pop in a movie to save my sanity and theirs. Why not use the iPhone (or iTouch) in the same manner?
Maybe you don't want to encourage your child to watch TV on the go. I don't either but imagine my delight at now having a "trick up my sleeve". For those moments when you need a fast distraction to avoid a melt down, to get that last errand ran, for a moment of peace so you can focus on what the doctor is saying…yes, I think children's apps certainly have a place in my life!
My Living Stories offers five classic tales that will delight your child.  My Living Story classic stories include Princess & the Pea, King Midas, The Tortoise & the Hare, Little Red Riding Hood and Goldilocks and the Three Bears. I hope they add more.
The artwork is unique and adorable. Goldilocks was my favorite with the cute animals peeking out from behind the trees and birds chirping in the background. The story is very interactive and is designed in a follow along design with the narration is in English or French. The words and language are easy for tots to understand and actually a great learning to read tool. At this point Chloe doesn't read but her friends, just a year older, are starting to sound out and read on their own so I know it won't be long before we'll be there too!
Another neat feature is that if your phone or computer has microphone capabilities, you can record your own voice reading the story to your child. Isn't that neat? Right now we just have the voice that comes with the app but I think that I will read and record it for the littles. I think they will be delightfully surprised to hear mommy reading them a story from the phone!
I love that they are classic stories and beautifully illustrated. There is nothing loud, flashing or annoying about them. They are simple, sweet and a delight to watch!
Win It!
Beautiful Calling readers are invited to participate in a great giveaway for a chance to win a $25 iTunes card!
Simply leave a comment telling you which My Living Stories story your child would like the most.
What is your favorite children's app?
Follow via Google Friend Connect (3 entries)
Blog about this giveaway linking back here
"Like this post" (on the bottom of this post) to have it show on your facebook status
Subscribe via RSS to Beautiful Calling
Subscribe via email to Beautiful Calling
Grab my Button (2 entries).
Become a Facebook Fan of Beautiful Calling
Follow @beautifulcall on twitter (2 entries)
Tweet about this giveaway (2 entries)
I'm trying to win an iTunes Gift Card #giveaway RT @Beautifulcall #MyLivingStories review here: http://tiny.cc/w2ckb ends 8/6 so hurry!
Contests open to Canada only. (sorry international friends)
Ends August 6th, 2010
Readers may enter the contest on multiple blogs but are only eligible to win one iTunes gift card as part of the My Living Stories contest.
This review and giveaway is part of a blog tour with Mom Central. As per my disclaimer, all inspiring thoughts and wonderful opinions expressed are my own!