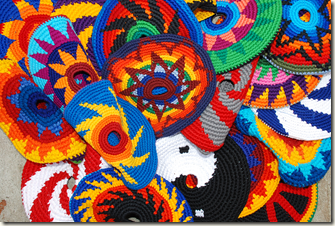 Do you know what a Pocket Disc is? I didn't! When Pocket Disc contacted me for a review I was delighted! It's a fun, versatile toy that also helps over 200 Guatemalan weavers to support their families. Now that is a worthwhile cause!
The Pocket Disc, A Diversion For All Ages


Fair trade toy hurtling across parks, pools, living rooms and college campuses nationwide.

The Pocket Disc is quickly becoming one of the hottest toys on the market for teens, college students, children, outdoor enthusiasts, and dog lovers. What started as a homework assignment in Savanna Groft's third grade class is now earning rave reviews for its performance, safety, portability, and versatility. The Pocket Disc is a 100% cotton, brilliantly colorful flying disc – the first true indoor/outdoor disc for all ages.

Tasked with crocheting a round placemat for her handwork studies, Savanna
unknowingly created the first Pocket Disc prototype. But, her placemat was not
initially recognized for its unique flying abilities. It sat on an end table for over a year and a half until the father of one of her friends stopped by for a visit and casually tossed it across the room at Savanna's dad. As the placemat floated across the room, Savanna's dad, Patrick Groft, and the infamous placemat thrower, Erik Larsen, shared a eureka moment and the Pocket Disc was born. The two soon launched the company they co-own, Phd Productions, and began to explore ways to bring this new toy to the mass market.

Knowing they wanted to do more than just make a toy with their new company, the co-founders began producing the discs through fair trade as a way to give back to the global community. With a veteran importer, Larsen and Groft found groups of Mayan women in Guatemala to produce the Pocket Discs. "The money they make crocheting Pocket Discs and other handmade products enables over 200 Guatemalan weavers to support and send their children to school in a country where 75% of the people now live below the poverty line," according to Groft.
Stay tuned! This week I will bring you the official review; sharing my thoughts on this product, how we used it (I cleaned cobwebs for fun!) and also a GIVEAWAY!