I was excited to have the opportunity to review some products from Fresh Organics. I received these a while back and have used them over the course of 6 weeks. While my usual product testing period is usually about 4 weeks, with skin care I decided it needed to be longer. I'll share why in a moment.
This pack contains travel sizes of all your baby essential needs. Since they were a travel size, I used the products sparingly so that they would last the 6 week+ trial period with regular use. I should add in here that the travel sizes are pretty generous though (50ml). John is a messy eater who loves to put food in his hair (why?!?!) so the littles bathe every second day. I know some bathe their littles every day but with their sensitive skin and Chloe's extreme eczema that wouldn't be a good idea for us.
Calming Bubble Bath: I was very happy with the bubble bath, though using it sparingly resulted in few bubbles. It did,  however, produce a bubbly foam which lasted. I imagine, had I used a little more in the baths, I would have had some decent bubbles. Generally, I don't put anything in the water (concern over ingredients!) so this was a treat for them indeed. I just love the scent of it; a combination of sweet and citrusy but not at all strong! 
Conditioning Shampoo & Wash: I was happy that the shampoo and wash were one and the same which simplifies things. It didn't appear to irritate their eyes at all during washing and lathered up well even when using a small amount. Afterwards, I didn't find Chloe's hair tangly which was a real treat!
Velvety Soft Babee Lotion: The body lotion wasn't greasy, had a nice scent (almost too subtle) and was fast absorbing. It didn't make a dent in Chloe's extreme eczema but then very few things do. John has sensitive skin, a little on the dry side (but no eczema) so it worked well for him, keeping him nice and soft with the tiniest of scents to make him even more cuddle-able!
Soothing Bottom Balm: Using cloth diapers on both my littles, diaper rash or red bottoms are few and far between. Sometimes, after a heavy wet at night, John might be a little red in the morning and the bottom balm worked well for that. It's scent was almost non-existent and the texture more of a heavy cream rather than an ointment or balm. I really liked it because it was easy to apply and fast absorbing. Not greasy or pasty at all.
The Bottom Line: I would give these products 5 stars and would definitely buy all of these, especially the bubble bath. There were no reactions to any of their products by either of my little ones. After extended use (6 weeks) there were no adverse affects such as drying of the skin from the wash. While none of the products seemed to improve Chloe's eczema, that wasn't surprising to me since during the winter months it is very severe. I consider it a great product that didn't irritate or further dry the skin. With John, his little baby skin seemed sweeter smelling and softer after the 6 weeks. The best thing? Knowing it is certified organic, hypo-allergic  and allergen free!
Pomegranate Fig Bubble Bath Petals
When Fresh Organics first offered to send me these, I declined because my passion is finding and sharing great baby/tot products. When they offered to send me them in addition to the baby line and told me that they were safe for tot skin too, I agreed, feeling neutral about them.
First off, I am a bath person at heart. In my pre-baby days I would indulge in decadent baths several times a week…usually with a book. Now that I have littles, I treat myself to a bath now and then but usually use the time they are asleep for something more productive (like blogging LOL).  These pictures are of my first experience with these petals. After using them, I love them!
The Scent: While the name Pomegranate Fig didn't do anything for me and the initial smell of the jar was overpowering, once you have them sprinkled in your bath, honestly, they have the most amazingly relaxing scent. It is like being at a spa. The are just the right potency and inhaling the scent is pure *bliss*!
What Are They: They are petals and leaves that disintegrate in your bath water. They are pretty and, you know, it is often the presentation that helps set the mood. They're beautiful and sprinkling them in my bath just feels indulgent. You need just a handful and the jar they come in in is packed down and brimming. I've had many baths in the past 6 weeks and my jar is still 3/4 full! They left my skin feeling soft, silky and slightly scented.  If you are wondering about bubbles, I chose to just have them "melt" around me but if you put them in the bath under running water, you can have bubbly bubbles.
For Moms and Tots: The big seller for me? No scary chemicals means that not only are they safe for mommy to indulge but also for baby! I know many moms consider their bath time to be "mommy's alone time" and at times mine is but often it is also a time to hold, snuggle, play with and nurse my baby. These are perfect for that. They are also perfect if you have a little girl who loves pink, flowers, baths is old enough to get "don't eat them!". Chloe is 3 and was just in a magical fairyland when I allowed her to have some in her bath. Again, both my littles have problem skin but had no problems with these petals!
The company was started by parents who were concerned about the amount of 'hidden' chemicals in baby products. They had a little one who ad sensitive skin as well as allergies and they wanted to meet his needs and help other parents do the same for their little ones. They now carry products for the whole family along with many household products.
For this reason, the bedrock of our principles is to ensure that any product we make or sell is 100% safe for long term use by any age person, from newborn up.  Principles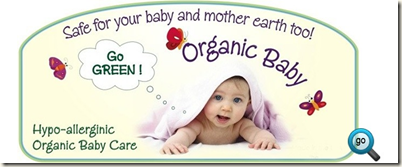 BUY IT
They are having a big sale on in honor of their new site design. Take advantage of shipping specials during the month of February along with discounted prices!
WIN IT
Fresh Organics has offered one winner TWO of the travel packs I received. These make great "trial" packs if you want to confirm their complete line is compatible with your baby. They make amazing baby shower gifts and of course, having one of these makes sure that your baby is still using the best, even when you are away from home!
To Enter:
Visit Fresh Organics and leave a comment with something that you use or would like to use.
Subscribe via RSS to Beautiful Calling
Subscribe via email to Beautiful Calling
Follow Fresh Organics' Blog
Grab my Button
Become a Facebook Fan
Make a purchase from Fresh Organics (5 Entries)
Ends Feb 19, 2010
Open to Canada & USA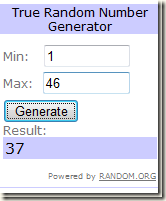 REDRAW Fresh Organics Winner: Kat
The Fresh Organics winner was announced back in March and when I was catching up, I noticed that she had never responded to claim her prize.