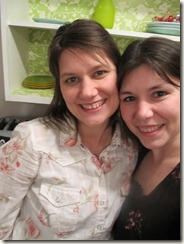 Today I had the privilege of doing an Epicure party with my sister as the Hostess. We had a chocolate themed party and it was a lot of fun (and tasty!!). But would you believe I burned the chocolate dips for the fruit? Talk about a disaster! Thankfully we had cookies and brownies to fall back on 🙂
Epicure's Chocolate Oatmeal Drop Cookies
2 cups (500 ml) oats
1/2. cup (125 ml) shredded coconut
4 heaping tsp (20-25 ml) Epicure's Pure Cocoa
1/2. tsp (2.5 ml) salt
1 tsp (5 ml) Epicure's Vanilla Extract
1/4. cup (60 ml) Epicure's Milk Belgian Chocolate
1/2. cup (125 ml) butter
1/2. cup (125 ml) milk
2 cups (500 ml) granulated sugar
In a large mixing bowl, combine the first 6 ingredients.
Place butter, milk and sugar in Epicure's 12-cup Multi-Purpose Pot and place over medium heat. Whisk to combine.
When butter mixture starts to boil, set a timer for 5 minutes and whisk occasionally.
Remove from heat and add dry ingredients to hot liquid, stirring quickly to combine.
Using a Tbsp (15 ml) measure, immediately drop cookies onto Epicure's Parchment Paper and allow to cool completely, about 5-10 minutes.
Weight Watcher Points per cookie = 3, Calories 130, Fat 5 g (Saturated 3 g, Trans 0 g), Cholesterol 10 mg, Sodium 65 mg, Carbohydrate 19 g (Fibre 1 g, Sugars 15 g), Protein 1 g
Just a reminder that Epicure Products can be purchased online (Consultant: Jennifer VanderPloeg) or directly through me.
This post links to
Mouthwatering Mondays
,
Tasty Tuesday
,and
Tempt My Tummy Tuesday
since it seems to go with them all.