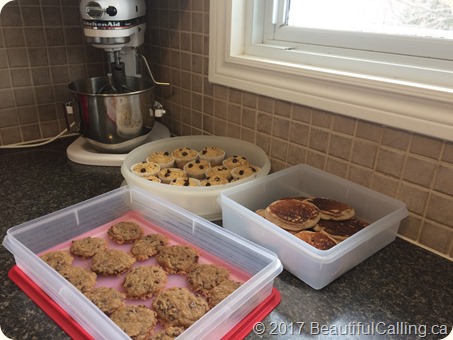 also pictured: Banana Pancakes, Chocolate Chip Cookies
Wheat Free, Dairy Free, Egg Free Muffin Recipe
2 cups flour (I use various combinations of coconut, brown rice, sorghum and arrowroot flours)
1/2 cup white sugar (not quite a full 1/2 cup though).
3 tsp baking powder
1/2 tsp salt
3/4 cup coconut milk (I have also tried it with hemp milk)
1/3 cup oil
1/4 cup apple sauce
soy chocolate chips
Set oven to 400 deg. F. I find it makes 16 muffins so line your muffin pan.
Mix ingredients together and fill your cups.
I add 3 soy chocolate chips to each muffin. Sometimes I sprinkle the top with sugar (1 TBSP brown sugar mixed with 1 TBSP white sugar).
Bake for approx. 15 minutes or until toothpick comes out clean.
*adapted from this recipe. Bear seems to like this one.