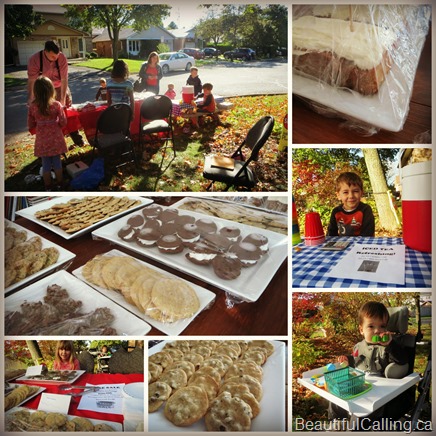 In the spring Chloe asked about having a bake sale. Of course the summer whizzed past and we were into fall. She asked again, and we made the plans.
Chloe (6) was going to handle the bake sale side of things and John (5) was going to man an ice tea station. We would put up signs at the mailbox and had out flyers. We would bake cookies the week before and freeze them and then do the other baking in the few days right before.
Half of the proceeds were going to go to the Bayanihan Orphanage  and then the remaining would be shared between Chloe and her friend/fellow-baker Bella, and John would pocket 50% of his little drink stand.
Chloe and John were introduced to the orphanage through our church several years ago. Each year in the fall our church received a list of the names and ages of the children at the orphanage. Chloe was a year old and I signed up to purchase a gift for one of the one year old children there. Every year since then, I have signed each of our children up for a child close in age to themselves. Each child then came shopping with me to purchase the components of our gift.
Anyway, because of their love for the children of the orphanage, they were so excited to do this! John made almost $5.00 and Chloe brought in a few pennies shy of $100. Mini Loafs were 2/$3 and cookies 12/$2.50. That's a lot of cookie sales…I think we made about 25 dozen plus the other treats? What a great turn out we had. Thank you to everyone who ordered or came out!
Last week we mailed out a check for $52.00 to the orphanage and the children were so proud. Because little though they are, they can make a difference! I want them to know that deep within their souls. I want to kindle that desire to help,  to grow, to make a difference in the world – wherever in the world God has placed them.
{And can I just add in that as much as my children were excited to give – they are real people and were happy to receive. Part of their motivation was earning money to buy their own pack of gum. Just thought I would throw that in there to keep it real!}