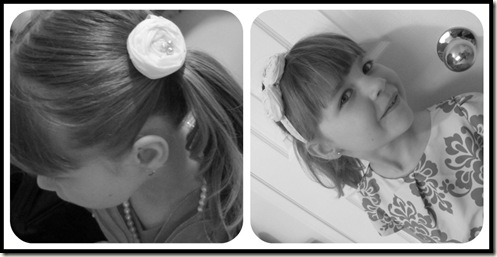 I love my sweet girl. I love dolling her up and I love how she loves to dress up all girly.  Flouncy dresses, pearls and hair pretties.
Tricia of Amber Krystyna Creations has been making us some wonderful pretties lately. These are a few of Chloe's favorites lately – fabric flowers. She made us a few on headbands and also on clips. Her prices are also so reasonable!
Not in the area? She's on Etsy too!
Chloe's favorite hairstyle lately? The side ponytail. Dress it up with a flower and you're set to go. I may try these fabric flowers myself. I'd love to dress up my own casual ponytail!
How do you dress up a ponytail for yourself or your daughter?