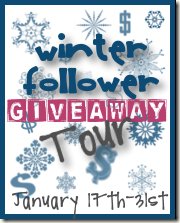 Have you entered my giveaway for $950 Cash If not, then make sure you do! It's an easy entry- just follow on Google Friend Connect, and make a comment on the original post here  letting me know you are a follower.
How would you like an extra entry into the contest? Today & tomorrow (January 27 & 28 ) we  will be offering a special bonus entry into the $950 Follower Giveaway Tour! In fact, we will be offering a few Bonus Entry days until the date the giveaway ends. All will be easy entries- we promise!
Today & tomorrow, the bonus entry will be to subscribe to my blog by email. Make sure to verify the subscription. PLEASE DO NOT LEAVE YOUR COMMENT ON THIS POST. Please leave your comment  that you subscribe by email to my blog on this post, by clicking here. If you would like to get up to 18 bonus entries, please visit each of the other host's blogs and subscribe by email.  You get one bonus entry per blog.
Here's the list of the other participating blogs: (Put them in your blog order as found on attachment).
Frugal Plus