For the first night of Awana earlier this month Chloe, John and I baked cookies. Boy, my little tots were excited. They love making anything at all that involves icing and/or sprinkles.  We have ABC alphabet cookie cutters from William Sonoma and let me tell you, we've used them a ton. Not only are useful but they're also educational. A spelling lesson in the kitchen? Count us in!
Simple Sugar Cookies
1 cup butter (if unsalted, add 1/2 tsp salt)
3/4 cup sugar
3 egg yolks
2 1/2 cups flour
1 tsp baking powder
Beat butter and sugar until light and fluffy. Beat in egg yolks one at a time.
Combine flour, baking powder and, if necessary, add salt. Mix into butter mixture well.
Divide dough into 3 equal portions, shape in to balls, flatten, wrap and refrigerate overnight. Let soften to room temperature before continuing.
Preheat to 350 deg F. Butter two baking sheets or lay parchment paper down.
Roll out disk to about 1/4 inch and use cutter to cut out shapes then place on the sheets.
Bake until cookie edges are golden brown, about 8 minutes. Cool completely and decorate. We're a fan of icing and sprinkles here.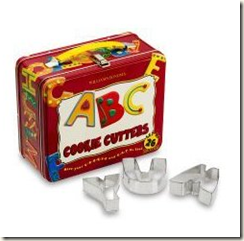 More recipes at
Tempt My Tummy Tuesdays
,
Tasty Tuesdays
,
It's A Blog Party's Delicious Dishes
,
Tuesdays at the Table
and A Beautiful Mess'
Tasty Tuesday
.