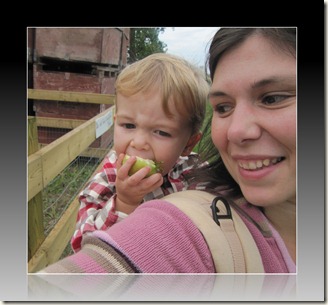 As sure as I look out my window and see autumn smiling back at me, I know well how the seasons visit and depart all too soon. However, if you really stop and get to know them and breathe deep in… they can be such polite guests- arriving on time, and, always knowing when to leave.                                                                        Baby Steph (read the rest here)
The PIE Approach to Handling Emotions @ Simple Kids is something I am going to try. Lately Chloe and John seem to be having trouble expressing themselves and their emotions.
The Only Thing I Know @ Gypsy Mama touched my heart, as does most of her writing. I bet your heart echoes her eloquent sentiment as well!
No More Tears…an Unfair Request @ Not Just Cute was like it was written for me. I often tell my littles, "no fussing" and need to recognize that sometimes it's OK.
Be a Kind, Detached Policeman @ Simple Mom was just what I needed to read. While the idea is something I have aspired to for a while and this post really helps to make the idea more concrete for me and put a name to it. Go read it!
How to Take Your Own School Photos @ Simple Home School was exciting for me because I've been wondering about photo collages! I look forward to trying it out!
These Are the Good Old Days @ Not a Bow in Sight was something I appreciated reading because sometimes I forget to remember that!
A Blessingway @ Naturally Knocked Up was beautiful to read. Imagine having that beautiful prayer lifted up towards God on your behalf. What a beautiful tradition; one that we should start anew!
Productivity & Quality Down Time: The Go Hand in Hand @ Simple Mom was written just for me. That little "voice" is an area I struggle with!