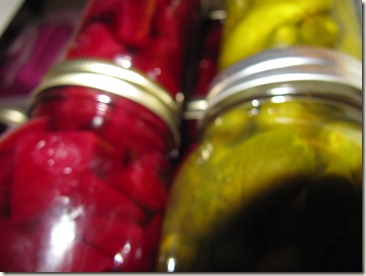 I enjoy pickled beets so this year when I saw a whole bushel for $8.00 how could I resist buying them? I'm in the canning zone and though I'd never made beets before, I was up for the challenge! A fast way to add veggies to the plate, and they're so pretty in their jars.
Easy Pickled Beets
3 quarts of beets
2 cups sugar
2 cinnamon sticks
1 tablespoon whole allspice
2 teaspoons salt
3 1/2 cups vinegar
1 1/2 cups of water
Wash your beets and then you can either #1 cook them and then peel them. This works well if your beets are small or #2 you can peel them, cut them and then cook them. Since my bushel didn't contain consistently sized beets, I did both ways. I cooked the small ones first then peeled them and the larger ones I peeled then cut and cooked. It was easier to peel the cooked beets but honestly? I don't think it was really easier one way or the other.
Combine all the ingredients (except the beets) in a pot and bring to a boil then simmer for 15 minutes.
Pack beets into hot jars with 1/4" headspace. Ladle hot liquid (without cinnamon sticks) into the jars, keeping your headspace.
Remove air bubbles, adjust 2pc lids.
Process 30 minutes in boiling water canner.
More recipes at Tempt My Tummy Tuesdays, Tasty Tuesdays, Tuesday Tastes, It's A Blog Party's Delicious Dishes, Tuesdays at the Table and A Beautiful Mess' Tasty Tuesday.