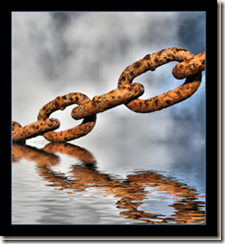 Photo by Dezz
A Letter to my Children about Marriage @ Generation Cedar was a fantastic post. Some great stuff including some incredible reminders to us who are already married.
Changing Lives One Laundry Load at a Time @ Small Notebook. We're not taking care of stuff, we're taking care of people!
Woman: Creative Despot @ Feminine Adventures said, "The idea of homemaking being the freeing "career" is refreshing and radical and TRUE.  Within our homes we can decorate and teach, organize and cook with a creative freedom that doctors and lawyers can't hope to match." It made me once again, thank the Lord for His amazing design and the husband he gave me who supports it!
In the season of rain, pray for rain by Lisa-Jo was a really good reminder. She said, "I pray for what I want, but rarely for what I have." and that struck a cord with me!
The Baby IS the Lesson @ Love to Learn had a lot of great points. While homeschooling was the context, I think it is a great read for everyone!
Pipe Cleaner People @ se7en is a craft we are definitely going to do at some point. Chloe would love them!
20 Tips for Finding Routine with Your Kids @ Simple Mom was chock full of ideas to help you (and me!) on the way to a better, more functional routine with littles!
The Family That Plays Together @ Simple Homeschool had some great ideas for implementing fun and bonding times.
Tots to Teens: The Truth, Way & Life @ Totally Tots had this fantastic bell that goes hand in hand with a bible study I am working on. I loved it. Take a moment to read it today.
Middle of the road dining @ eBabble shared some interesting thoughts as well. I would rather have more quality less quantity over quantity without quality.
Grace…Heap it On Yourself @ Simple Mom has a link to a little survey. Take it to determine your stress level. She also reminds us that at times we need to give ourselves grace.
Bubble Gum Machine Cake Pops @ Happy Housewife look really really neat. A bit labor-intensive but not hard. I bet Chloe would just LOVE them!