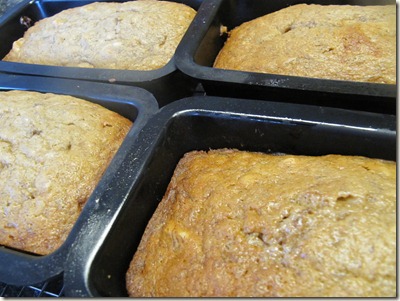 Super Yummy Banana Bread
5 Tbsp Salted Butter
1/2 cup white sugar
1/2 cup packed brown sugar
1 Large Egg
2 Egg Whites
1 tsp Vanilla
1 1/2 – 2 cups mashed banana
1 3/4 cups flour
1 tsp baking soda
1/4 tsp baking powder
1/2 cream (or milk, half and half, buttermilk or any combination thereof)
1/4 chopped walnuts (optional)
Preheat oven to 350 deg F. Line bottom of mini-loaf pans with parchment paper and then grease the pan to ensure ease of removal.
Beat butter until light and fluffy. Add white & brown sugar and beat well. Add egg, whites and vanilla. Beat well. Add mashed banana and beat on high. (a lot of beating huh? Hope you have a mixer!)
In a separate bowl – combine flour, baking soda & baking powder. Add flour mixture to butter mixture alternately with cream (or milk) ending with the flour. Add the nuts if desired
Pour batter evenly into loaf pans and bake until browned and toothpick comes out clean. Approx 1 hour 10 min +/-.
Cool approx 10 min. then remove from pan and cool completely on rack
Notes:
Quick Breads often taste better the day after they are baked. As soon as it is cool, I wrap in in plastic wrap and leave it on the counter over night. The following day, we eat one (or two) and the rest go into the freezer! I wrap them in plastic wrap and then put them into a plastic bag to make sure they stay fresh!
I have a few staple recipes that I make in mini-loaf pans and freeze. I shared a Frugal Carrot Cake recipe in the past that freezes well too.
I always buy over-ripe bananas because they are usually marked down to a super low price. Last summer I bought over 20 lbs of reduced bananas for about $4.00. I peeled them all and mashed them all and froze them in 2 cup portions Now when I want to make banana bread, it is so easy.
When my husband makes his home-made ice cream, the recipes usually call for egg yolks. Just pop the egg yolks in the freezer to save for another recipe!