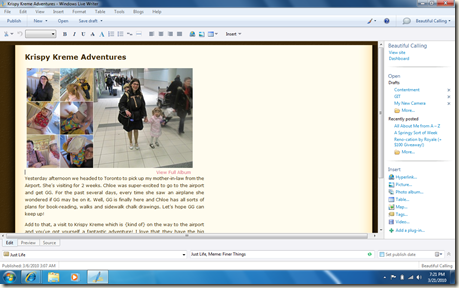 My DH introduced me to Windows LiveWriter back when I first started blogging. I was on Blogger and if you've ever tried to write a post on the teeny screen in the Blogger editor you'll know why I was so excited about LiveWriter. It's a nice big full sized editor!
LiveWriter works in both Blogger and WordPress.
It's FREE and easy to download. After downloading, simply run the program, it will ask for your blog address, log in information and then it will detect your blog settings and set itself up accordingly. I like things that just work without a lot of work on my part.
After "detecting your settings" it will even put together a preview screen that looks just like your blog so you know what your post will look like before you have even published it. Just like the picture below. After the initial "detecting", it is just set up and ready to go whenever you are.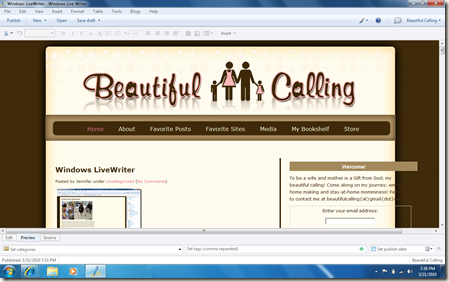 For those of you who use Microsoft Word for word processing, you will find this very similar. Even if you are not familiar with Word, LiveWriter is super user-friendly. You can change the size, style and color of your fonts in easily, there is spell-check and a word count option, the strike-out option is simply a button (no HTML needed)and you can add in a table, map or video easily.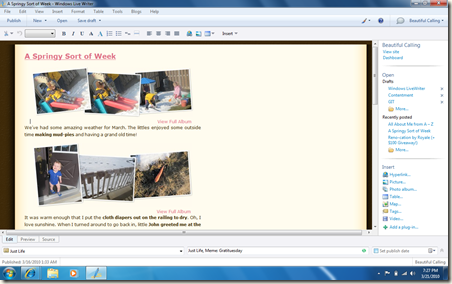 On the right hand size is a Quick Link Menu that shows your latest drafts, recently posted as well as quick-links to your site, dashboard etc.
Along the bottom is the area for setting tags, categories along with the publish date options.
But my favorite thing about LiveWriter? The fun things I can do with pictures. I simply "copy" 3 or more pictures from my camera and "paste" them into LiveWriter. When I do that, I get a message that looks like this:
If I choose Inline Images, it puts the photos in the post as single pictures. If I choose Album then I get the photos as below. It then gives me a drop down menu to choose how I want to display them. If you see the print screens above you can see that there are many different display options for the album. Windows LiveWriter then uploads them to Windows Live Gallery so if someone clicks on them, they can view them full sized.
I love to include pictures in my posts. It makes the posts interesting and I happen to think that my little ones are cute! That being said, I don't necessarily want you to have to scroll through a million pictures to read the post. Putting the images in the above format, means I can include 3 pictures in the space that one would take. And I think it looks neat. And it requires very little work on my part…literally just a copy and paste and *bam* there they are looking all nice.
So those are the reasons I use LiveWriter and if you are in need of a good (free) editor to write your blog posts in, I suggest you give it a try!
(Update: for Mac users, I've heard that Illuminex works similar. I've never tried it though.)
Question: Where do you write your blog posts?