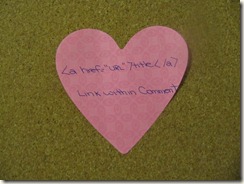 Ever wondered how to create a link within the comment that you are leaving? I know I have. I know very little about HTML and honestly? I don't have the time to research and learn it. That is why I was thrilled to come across this little tip at A Heart for Home.
<a href=URL>title</a>
Replace the URL with the URL of the site you are linking to and replace the title with the title of the site or the words you want to be displayed.
Need a visual example? Visit A Heart for Home!
Now these kinds of things fly out of my head in a moment. Don't know why. I can remember what I paid for that dress on sale 7 years ago but I can't remember useful things. LOL.  My best friends? Sticky notes in prominent places.